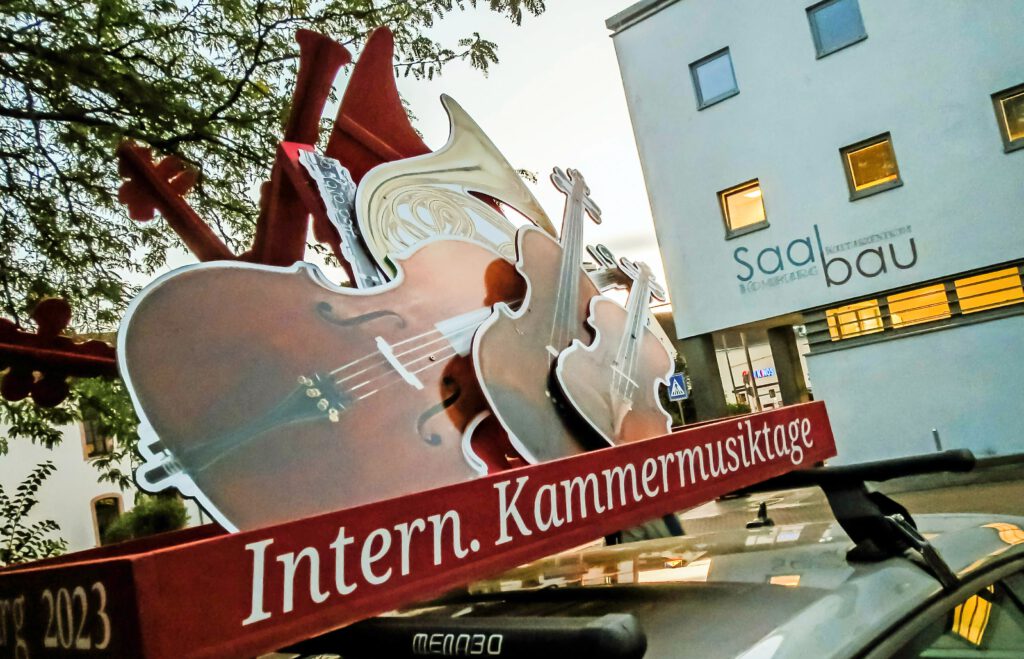 From 29 Septem­ber to 3 Octo­ber this year's Kam­mer­musiktage Hom­burg took place under the title "face à face" with 6 con­certs on 7 days. Our guests were Frank Dupree (piano), Nikolaus Friedrich (cla­ri­net), the Liv Quar­tet (cla­ri­net quar­tet) and the Kyk­los Cham­bers (piano quartet).
Photo: Thor­sten Wolf / Saar­brück­er Zeitung

"As bril­liantly as the Kam­mer­musiktage Hom­burg star­ted a week earli­er, they ended on Tues­days in front of a stately audi­ence at Saal­bau with peak cham­ber music works by Dvorak, Wolf and Brahms. The Vogler Quar­tet and its guest ensembles and guest soloists offered great sur­prises, flights of fancy and some­times unleashed music-mak­ing at each of the six con­certs in the past fest­iv­al week."
Saar­brück­er Zei­tung, Paul Krick, 05.10.2023
---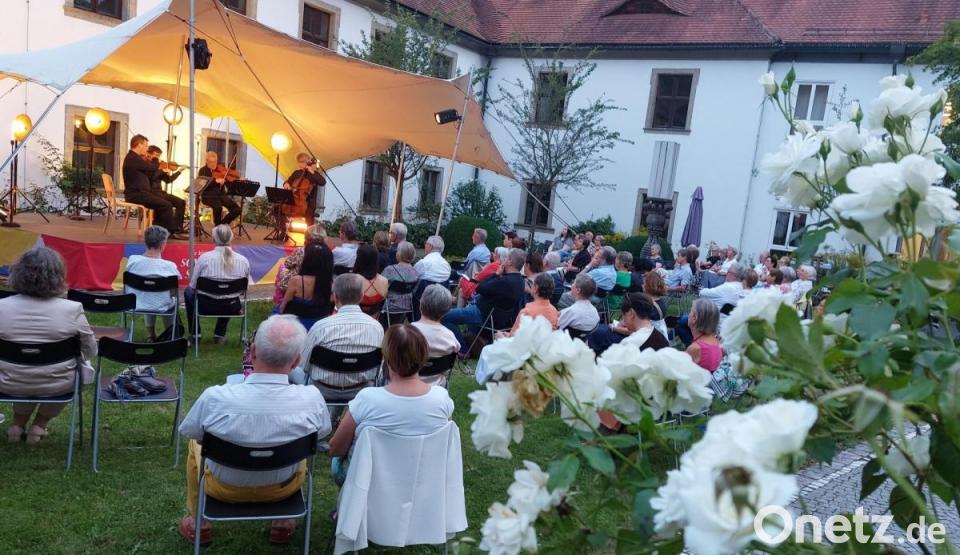 photo: Kunz
The Vogler Quar­tet provided music­al delight at a cham­ber music open air in the court­yard of the Weiden Region­al Library.
Right at the begin­ning, how­ever, the audi­ence listened in on the ini­tially splen­didly play­ful, almost jazzy, but sub­sequently aston­ish­ingly quiet and grot­esque String Quar­tet No. 1 by Erwin Schul­hoff. Already in this first piece, the indi­vidu­al­ity and the intel­li­gent and tech­nic­al feel­ing of the four musi­cians became clear.
Onetz, Helmut Kunz, 25.08.2023
---
The 2023/24 sea­son will once again fea­ture our sub­scrip­tion series at Konzer­thaus Ber­lin with four con­certs, each Sat­urday at 6:00 pm:
Octo­ber 28, 2023
Janu­ary 20, 2024
March 16, 2024
May 04, 2024
Info and tick­ets / sub­scrip­tions are avail­able at Konzer­thaus Ber­lin:
https://www.konzerthaus.de/de/abo/abo-vogler-quartett/169
---
In the 2024/25 sea­son we will cel­eb­rate our 40th Anniversary!

This is hard to believe.
Four dec­ades with the same line-up (this is unique in the scene) have allowed us to grow togeth­er not only music­ally but also per­son­ally into a sol­id unit.
We thought about what we actu­ally stand for and what we are par­tic­u­larly inter­ested in. Haydn and Schubert are always part of our pro­grams and inspire us again and again. Our com­plete record­ing of Ant­on­in Dvorak's string quar­tets will be com­pleted this year. Dvorak's music has accom­pan­ied us intens­ively through many years now and we have grown togeth­er with it. Our quar­tet was deeply influ­enced by our love of clas­sic­al mod­ern music and espe­cially of the New Vienna School.
Giuseppe Verdi's string quar­tet was fea­tured on our first CD which we pro­duced for BMG/RCA. Louis Théodore Gouvry's string quar­tet No. 5 was a dis­cov­ery for us. Rarely heard and com­posed in the tem­por­al prox­im­ity to Verdi's quar­tet these works, sup­ple­men­ted by Erwin Schulhoff's "5 pieces for string quar­tet" build an excit­ing program.
Jubilee Pro­grams:

Pro­gram 1:
Joseph Haydn: string quar­tet E flat major op. 64/6 Hob. III:64
Alban Berg: stgring quar­tet op. 3
***
Ant­on­in Dvořák: string quar­tet G major op. 106
Pro­gram 2:
Louis Théodore Gouvy: string quar­tet No. 5 C minor op. 68
Erwin Schul­hoff: 5 pieces for string quar­tet
***
Giuseppe Verdi: string quar­tet E minor
Pro­gram 3:
Joseph Haydn: string quar­tet D major op. 76/5 Hob. III:79
Ant­on Webern: 5 mouve­ments for string quar­tet op. 5
***
Franz Schubert: string quar­tet d minor "Death and the Maid­en"
D 810
---
First ver­sion of Verdi's String Quar­tet E minor presen­ted in Leipzig.
The Uni­ver­sity of Leipzig, Leipzig Opera and the Uni­ver­sity of Music and Theat­er made an extraordin­ary event pos­sible: "A string quar­tet nev­er heard before".
On 27 March, 2023 we were able to present the first ver­sion of Giuseppe Verdi's Quar­tet in E minor from 1873 in the con­cert foy­er of the Opera in Leipzig. The piece has only been heard in the revised prin­ted ver­sion of 1876 so far.
The first ver­sion, peppered with quo­ta­tions from Verdi's oper­as, was recently pub­lished by Prof. Dr. Anselm Ger­hard, long-time head of the Musi­co­logy Insti­tute at the Uni­ver­sity of Bern and a recog­nized opera spe­cial­ist, in a crit­ic­al edi­tion by Henle Verlag.
In the Lec­ture Con­cert, both ver­sion were con­tras­ted with each other.
---
In March and sum­mer 2023 we will record the next two quar­tets (A minor op. 16 and C major op. 61) at Börne Stu­di­os in Ber­lin for our com­plete Dvořák record­ing.
Four albums have already been released.
---
For all string quar­tet fans there is now a "String Quar­tet Quar­tet".
32 ensembles were selec­ted for the card game by the VAN online Magazine for Clas­sic­al Music. We are on!
More inform­a­tion can be found here:
https://van-magazin.de/streichquartett-quartett-abo/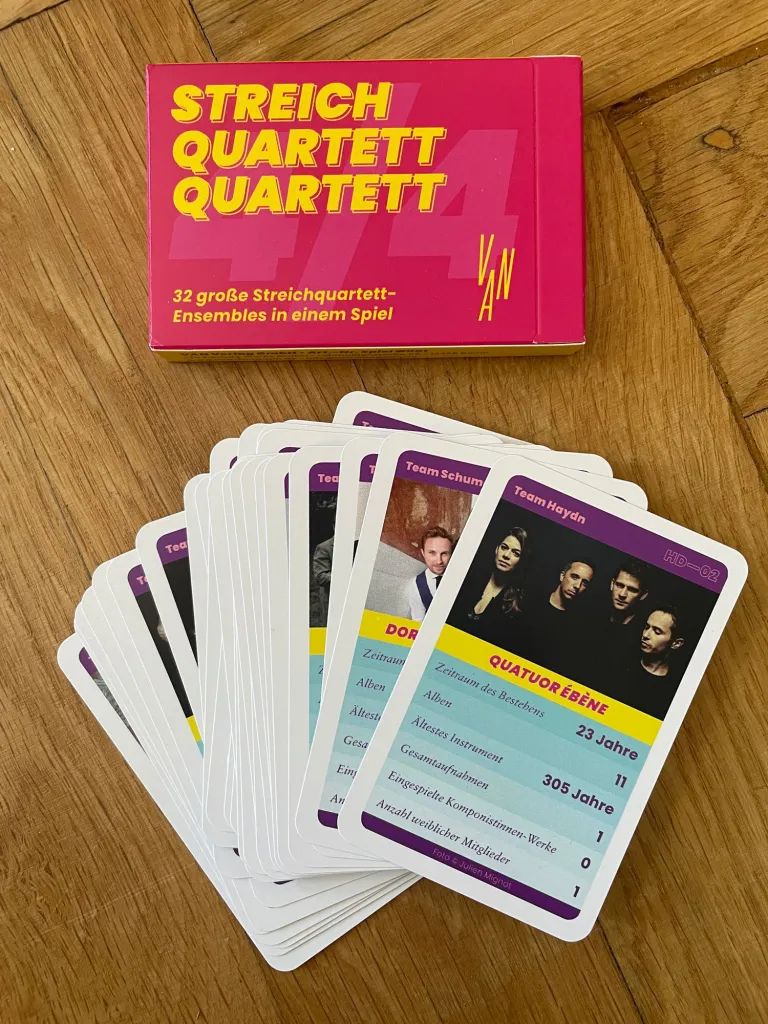 ---