Spe­cial con­cert exper­i­ence on March 27, 2023 at Leipzig Opera
We present the newly pub­lished first ver­sion of Verdi's string quar­tet (pub­lished by Prof. Dr. Anselm Ger­hard, Bern Uni­ver­sity). It will be set against the second ver­sion which has usu­ally been played up to now.
Prof. Dr. Axel Körner (Leipzig Uni­ver­sity) and Prof. Anselm Ger­hard accom­pany the event with explan­at­ory notes in dia­logue with the Vogler Quartet.
---
In March and sum­mer 2023 we will record the next two quar­tets (A minor op. 16 and C major op. 61) at Börne Stu­di­os in Ber­lin for our com­plete Dvořák record­ing.
Four albums have already been released.
---
17th Nord­hess­is­che Kin­der­musiktage with the Vogler Quar­tet are in plan­ning for the peri­od 13–16 June, 2023.
We are happy to real­ize pro­jects with Kas­sel school chil­dren after two years.
In 2021 and 2022, the days had to be can­celed due to the pandemic.
---
Our con­cert series at Konzer­thaus Ber­lin is enter­ing its 26h season !
Since 1993/94 we have been able to use a Carte Blanche for our own con­cert series in the cham­ber music hall of Ber­lin Konzer­thaus with an annu­ally chan­ging focus and inter­na­tion­ally renowned guests who usu­ally sup­port us in two concerts.
In 2022/23 Andra Dar­z­ins (viola), Lucas Fels (viol­on­cello) and Cas­par Frantz (piano) will per­form­ing with us in sex­tet and quin­tet programs.
Our dates for the 2022/23 season:
Sat­urday — Decem­ber 3, 2022
Sat­urday — Feb­ru­ary 4, 2023
Sat­urday — April 1, 2023
Sat­urday — May 20, 2023
More inform­a­tion on our con­cert list:
https://vogler-quartett.de/concerts/
---
For all string quar­tet fans there is now a "String Quar­tet Quar­tet".
32 ensembles were selec­ted for the card game by the VAN online Magazine for Clas­sic­al Music. We are on!
More inform­a­tion can be found here:
https://van-magazin.de/streichquartett-quartett-abo/
---
Vol. 4 (2 CDs) of our Dvořák com­plete record­ing was pub­lished on Octo­ber 5, 2021.
String Quar­tets No. 2 in B flat major and No. 5 in F minor op. 9
Trio C major op. 74 for wo viol­ins and viola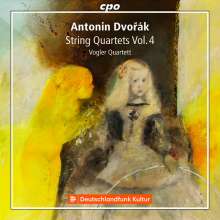 Sound / Artist­ic Qual­ity / Rep­er­toirew­ert / Book­let:
5 out of 5
"Of con­sist­ent qual­ity
And that applies not only to the great play­ing of the Vogler Quar­tet, but also to the "qual­ity" of the com­pos­i­tions.
They are "great" in a lit­er­al sense.
[…] Again the per­formers are out­stand­ing.
As in the pre­vi­ous epis­odes, they hit the Bohemi­an col­or of this music in a par­tic­u­larly delight­ful way.
Not to men­tion the tech­nic­al mas­tery.
So if you really want to throw your­self into Czech cham­ber music, you've come to the right place with this new double CD."
---
Fur­ther releases in 2021
Georgi Catoire:
Piano Quin­tet op. 28 (1914) and Piano Quar­tet op. 31 (1916)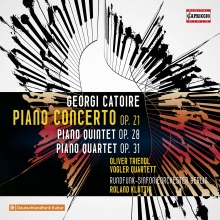 Rar­ity turns out to be a discovery

Ini­ti­at­or for the record­ing (at Deutsch­land­funk in Cologne in May 2020) is the pian­ist Oliv­er Triendl, our long­stand­ing cham­ber music part­ner and a proven spe­cial­ist in find­ing unknown, often wrongly for­got­ten repertoire.
The CD was released by Capric­cio on 8 Janu­ary 2021.
The album was nom­in­ated for the ICMA 2022.
---
Grigori Frid: "Phädra" op. 78,1 and Piano Quin­tet op. 72