Already five years will be over again.
We just did celebrate our 30th anniversary as a quartet.
In 2020 we can look back on a 35-year career with the same members!
Very few ensembles have traveled such a long distance together and experienced so many things:
As a young East German quartet, we were "exotics" in the business at the beginning, and in spring 1989 we were able to study with the LaSalle Quartet in Cincinnati (USA). Shortly after the return the GDR collapsed. Our career picked up speed in the turnaround which brought relief not only for private life but of course also for professional work. After 20 years as freelancers, lectureships and professorships were added to the artistic work in the early 2000s.
… a long common path that is closely linked not only professionally but also privately …

In July 2019 Vol. 3 of our complete Dvořák recording was released by the label cpo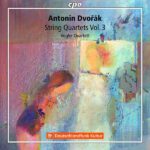 The quartets in G minor op. 12 and E major op. 80 (CD 1) and the early 3rd quartet in D major (CD 2) can be heard on the double CD. This piece with a length of 66 minutes breaks all the conventions that were applicable until then and was the longest chamber music work well into the 20th century.

Anniversary cycles
"It must be? It must be! It must be!
(this is Beethoven's motto for his quartet op. 135)
With Beethoven's complex string quartets which look out into symphonic areas with their formal expansion and intensification of tonal language we have celebrated great success in our career.
"Their vaunted musical intelligence has grown into an emotional maturity that allows them to play music convincingly and rousingly through three decades of Beethoven … It is actually idle to talk about technical skills. But if an ensemble succeeds in bringing the music to the listener in such a way that the listener no longer has to make a painful distinction between composition and interpretation, but can simply say: "That's it!", It's just right." (Leverkusener Anzeiger, 2.2.98)
op. 59.3
"The musicians master these complex tasks perfectly." (Main-Post, 25.10.00)
"Beethoven revelations with the Vogler Quartet" (Badische Zeitung, 10.10.01)
Große Fuge op. 133
"Terrific reproduction full of intensity and excitement" (Donau-Kurier Ingolstadt, 12.5.06)
op. 18.1
"How the four players transformed the young composer's thoughts in the context between preserving tradition and break up for his own universe in music – this had a touch of eternity. Anyone who hears the piece again on another occasion will then measure the impressions by the memories of this performance." (Süddeutsche Zeitung, 03.2.20)
For the quartet anniversary a long-cherished wish has come true:
At the Konzerthaus Berlin we will play our own Beethoven cycle in the 2020/21 season.
From November 11th to 20th, 2020 we will be a guest at the Holzhausenschlösschen in Frankfurt with a Beethoven cycle.

The 21st edition of the SLIGO INTERNATIONAL CHAMBER MUSIC FESTIVAL should have taken place from 1-4. May 2020.
That was the plan before the corona pandemic.
The festival will be re-scheduled from April 30 to May 3, 2021 with an identical program!
It all started for us with a pilot project in September 1999:
A string quartet was looked after which was to work closely with local music groups, schools and educational institutions as part of an initially three-year residency in Sligo which was later extended by two years due to the great success, in order to develop the north-west of Ireland musically and culturally. The project was funded and organized jointly by the Sligo County Council and Music Network, the state music development organization.
A concert series, a music school was founded, there were regular lectures and visits to primary schools and secondary schools. A chamber music festival should bring international attention.
Drumcliffe Church where the Irish national poet William Butler Yeats is buried is the festival's main venue. It is located a few miles outside Sligo between the Irish Sea and the table mountain 'Ben Bulben'.
The Sligo International Chamber Music Festival has established itself among the leading festivals in Ireland to which chamber music fans from Ireland, European countries and North American music lovers travel annually over the May Bank Holiday (the first weekend in May).
We look forward to the next edition!
https://www.sligointernationalchambermusicfestival.com

CD recording in "concert-free" time
The Vogler Quartet uses the free time to record the piano quintet op. 28 (1914) and the piano quartet op. 31 (1916) by the Russian composer Georgi Catoire (1861-1926) in May 2020. Inspired by our longterm piano partner Oliver Triendl this composer turned out to be a great discovery for us.
Another recording is still pending:
Grigori Frid – piano quintets op. 72 and op. 78.1 "Phaedra" with the pianist Elisaveta Blumina for the label Capriccio.

Small-format opera production:
Mozart's "Cosi fan tutte" adapted to Corona times – perhaps trend-setting for new forms of making music …
The action takes place in the cold store of a laboratory, the protagonists of the somewhat different staging are medical staff (doctors, nurses, laboratory assistants) and study objects.
The intellectual fathers of this idea are the director Thomas Höft and the baritone Dietrich Henschel who will also have the overall musical direction.
In addition to selected scenes from Mozart's opera works by György Ligeti, John Cage, György Kurtag, James Campbell and Reginald Connelly can be heard.
A production by ĀRT HOUSE 17 & Originalklang e.V. Cologne.

"Wild and polyphonic"
World premiere "Suara-Suara" (= voice)
A new work for basset clarinet and string quartet by composer Dieter Mack has been enriching the repertoire for this quintet line-up since autumn 2018 which is characterized by a combination of historical allusions, references to Indonesian meditation and wild sound storms.
Together with the clarinetist Nikolaus Friedrich, the director of the local Mozart Society, the work was premiered on October 7, 2018 in Schwetzingen.
"If there were three words that could be used to aptly describe the Vogler Quartet and Nikolaus Friedrich, they are: fearlessness, conviction and brilliance." (Schwetzinger Zeitung vom 9.10.18)